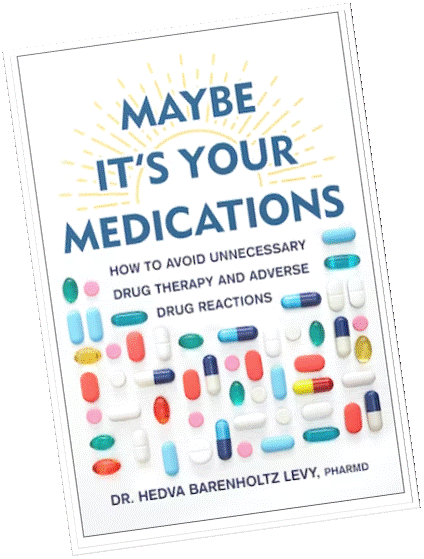 We have a medication problem in America. It is marked not only by excessive use of medications, but by errors in how they are prescribed, monitored, and taken. An estimated 19 million adults age 65 and older take five or more medications daily. These individuals and family caregivers know the frustrations of lengthy medication lists, high drug costs, and frequent questions about the need and value of those medications. All too often, an unrecognized adverse drug effect is mistaken for a new medical condition, or worse, a symptom of getting older. But who stops to question the medications?
"Dr. Hedva Barenholtz Levy is an educator and leader in geriatric pharmacy and a dual board-certified specialist. With the publication of "Maybe It's Your Medications: How to Avoid Unnecessary Drug Therapy and Adverse Drug Reactions" she applies her decades of experience to guide the non-specialist general reader in how to become an active participant on their healthcare team and prevent unintended errors and medication-related problems. Impressively comprehensive, organized, and presented, "Maybe It's Your Medications" is thoroughly 'user friendly', informative, and recommended for personal, professional, community, health clinic, college, and university library Health/Medicine collections and supplemental Pharmacy curriculum studies lists."
--Midwest Book Review
"Dr. Levy has written one of the most thorough, accessible, and practical books on medications and healthful living I have ever read. While applicable across the lifespan, her knowledge and advice for older adults shines through on every page…Medication safety is a communal responsibility, as Dr. Levy emphasizes so eloquently in "Maybe It's Your Medications." Patients, family members, clinicians, and other professionals all have roles to play."
--Tom Meuser, PhD, Director, Center for Excellence in Aging & Health, University of New England
"Dr. Levy has dug deep into all aspects of drug prescribing in this era of polypharmacy. A great contribution to the lay AND professional literature!"
--David Carr, MD, Washington University School of Medicine, Clinical Director, Division of Geriatrics and Nutritional Science
"For our aging population, the single biggest factor impacting health is medication use. Dr. Levy has crafted a complete guide for anyone seeking to advocate for themselves or those they care for, as only a pharmacist can—taking the complex and making it approachable and understandable."
--Chad Worz, PharmD, Chief Executive Officer, The American Society of Consultant Pharmacists